You can choose from over 700 hotels and apartments in and around Paris, read reviews, find hotel location maps, discounted rates and lots of valuable information on my Paris Hotels Booking Page.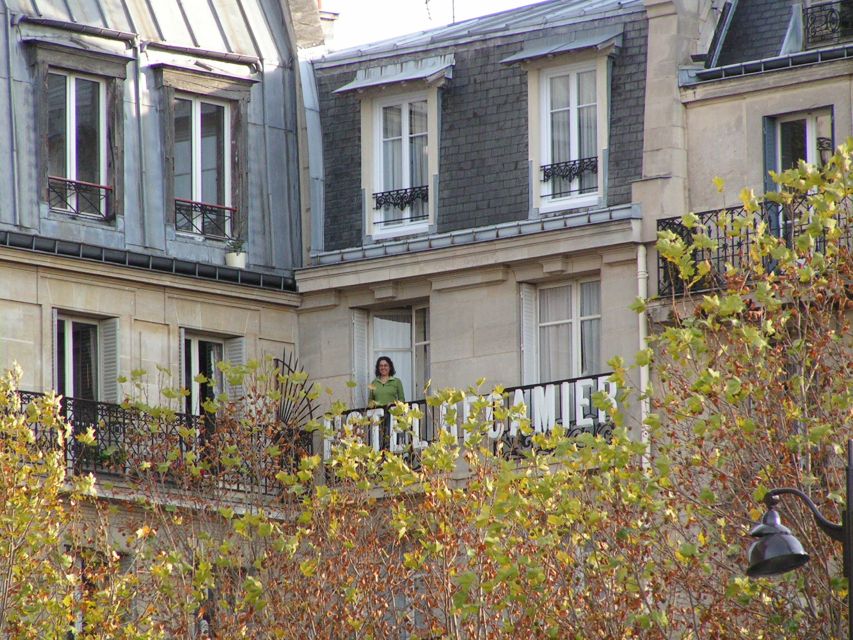 When we were planning our 2nd trip to Paris we asked some friends where we should stay. Our friend Christina told us about her favorite little hotel on the Square at St Sulpice called the Hotel Recamier, right near the Luxembourg Gardens. It sounded OK to me and it was cheap. When we arrived at the airport our taxi driver, who was French, had never even heard of the hotel. Not a good sign, I thought. We finally located it right beneath one of the towers of the Cathedral of St Sulpice. We entered the small but colorful lobby and took the tiny elevator which could only fit one of us and our bags or two of us without our bags, or just our bags without us. The room was small. The phone was pre-laptop connector which meant I could not answer my e-mail. There was no TV. But the view of the square was fine and you could even see the Eiffel Tower in the distance.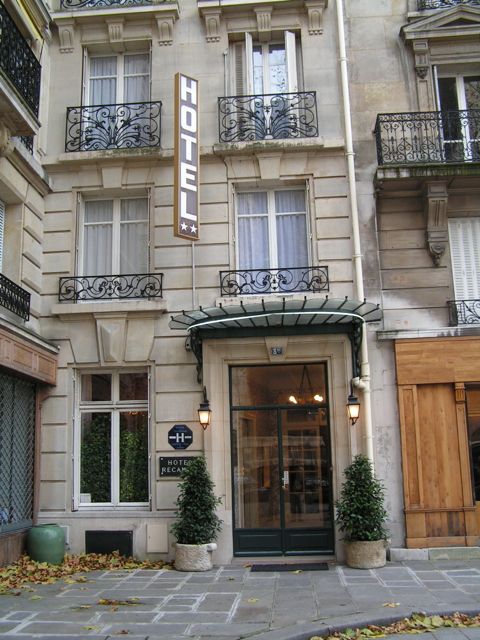 OK. I hated it at first. I wanted to find another hotel with a big lobby and cable TV and a bar. But after a night or so I completely changed my mind. The room was perfect. No TV and no Internet meant I could read or sleep or take a shower. There was no other reason to be in the room which kept me out of it for longer periods of time. The bathroom was great. Maybe the best shower of my life once I figured out work the faucets and it was nice to see a bidet even though I did not use that (We used to have one in our apartment in Athens when we were kids and when we asked my mom what it was she told us it was a foot bath which is what we used it for.) The reason I liked the room was because it caused me to spend more time wandering around Paris or sitting in cafes. You know how we are sometime. We go to a foreign country and we find ourselves watching CNN for three hours, catching up on the news, sports and even watching stuff we don't even care about. So my advice is if you are coming to Paris find the most simple hotel room you can. You want it to be clean. You probably want it to have an elevator (always ask when you book), it helps if the people at the desk are nice, you want hot water any time of day, and if you are like me you want to be in St Germain, preferably near the Rue de Canettes because there are lots of little restaurants and if one person wants to go home early you can say "OK. But I am staying" and not worry about them getting lost. Anyway now they have TV and internet and everything so if you want to sit in your room and catch up on the news or even plan what you are going to do the next day you can at the Hotel Recamier
When we went to Paris over Thanksgiving of 2008 we stayed at the very cozy 2-star Hotel Europe Saint Severin-Paris Notre Dame which was on a pedestrian street just a block from the statue of St Michel and justa cross the river from the Cathedral of Notre Dame. It would be a tough destination to beat and the people who worked there were very nice. The room was small but we did not mind and though it had cable TV we barely turned it on. The hotel had wireless internet too. But it is so close to so much of the nightlife that anyone who spends more than an hour in their room when they are not sleeping have something wrong with them. Well, my daughter did but she was depressed because her boyfriend had just broken up with her and we were coming from Athens where it was warm and sunny and she thought Paris was freezing. She would leave her room only at night to go get sushi in the neighborhood. Anyway that is besides the point. This is a nice hotel so if they have availability stay here. There is even an Italian restaurant downstairs. It is closed in the morning so the hotel uses it as their breakfast room, and the breakfast there is really nice. Excellent coffee and people who need to see all of Paris in a few short days know how important that is.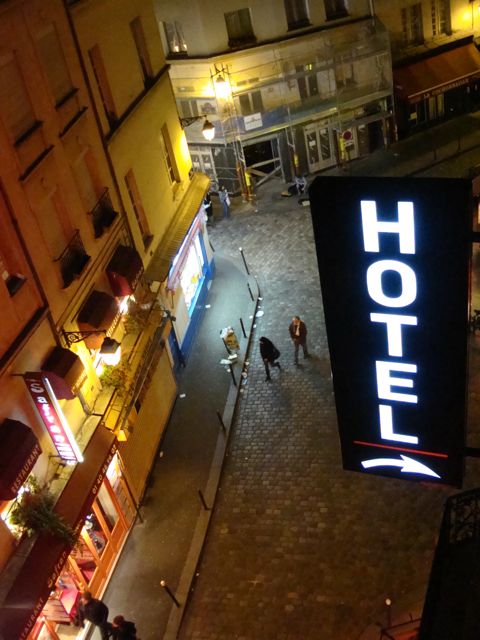 If the two above hotels are full and you are looking for something economical in the Latin Quarter then try the Hotel de Saint-Germain. Of course not everyone is as Bohemian as I am and some people want to watch CNN and have air-conditioning if they need it and have a nice bar in the lobby where they can meet and talk to their fellow guests and maybe have someone to go out to dinner with later. If you want to pay a little more then the 3-star Odeon Saint Germain is in a building dating back to the 16th century decorated by Jacques Garcia, a famous interior designer. The 4-star Hôtel Le Relais Saint-Germain is a superbly renovated 17th-century house
There are plenty of hotels of every category in Paris and in every part of the city. As a general rule you want to be in the following arrondissements: The 5th which is the Latin Quarter, the 6th which is St Germain, the 7th which is the Eiffel Tower and the Hotel des Invalides, the 4th which includes the Ile de la Cite and Ile St Louis, the 1st which includes the Louvre, the 8th which includes the Champs Elysees and the 18th which is where Montmarte is. All these areas are on the river with the exception of the 18th, and if you are healthy you can walk just about anywhere from them. But I still think the 5th and the 6th are the best areas to stay in. You can go to the pages I have written about these areas and I have included a few recommended hotels on each. The Grand Hotel des Balcons, is a nice two star just off the Luxembourg Gardens, still a family owned, clean as a whistle and great breakfast. Good wifi. Helpful staff. The rooms can be small but that is not unusual. Prices are great, 129 for a double, 90 for a single.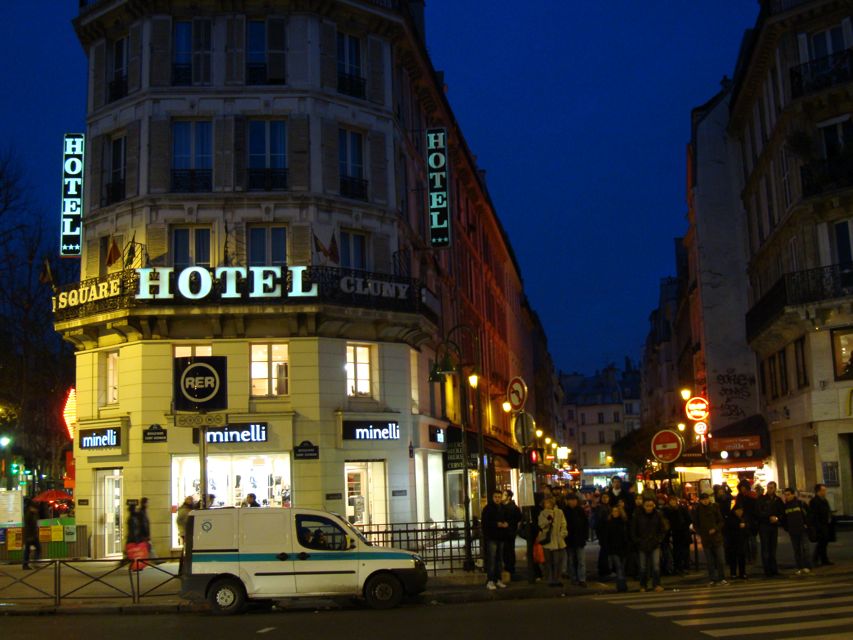 It is best to book in advance and you can do this over the net or through your local neighborhood travel agent who may have a favorite place of her own, since Paris is the one destination that probably every travel agent has been to at least once. (If not, get a new travel agent.)
Hotels are classified by stars, with the highest quality being the five and the lowest being one. The highest quality are generally in the 1st, 8th and the 16th arrondissements. Some of the one and two star hotels don't have private bath and these are also the ones you should make sure they have an elevator. Most serve continental breakfast, though we went out every morning for ours in the cafes on the Boulevard St Germain. But you can probably count on bread, butter, jam and coffee. When you book over the phone or on-line you will need to use a credit card for the first night at least. Then you can pay for the rest in cash when you get there.
As for finding hotels without the help of a travel agent most websites like this one contain ads by individual hotels or hotel booking sites so check those. Also the recommended guidebooks like Richard Saul Wurman's ACCESS PARIS have their favorites and you can probably trust them.
You can choose from over 700 hotels and apartments in and around Paris, read reviews, find hotel location maps, discounted rates and lots of valuable information on my Paris Hotels Booking Page.
Transfers from Paris Airports, Hotels and Train Stations
Book a trusted local driver to pick you up and introduce you to Paris, pre-order travel essentials, and get all your questions answered before or during the trip. Welcome Transfers enables you to pre-book a trained, English-speaking, professional driver to pick you up at all Paris airports, hotels and train stations at the best available price. Book your Paris Airport Transfer