The first time I visited Paris we were on our way back from Athens and our travel agent had booked us for one night in her favorite hotel in the neighborhood of Montparnasse in the 14th which at the time meant little or nothing to me. It was a stout building of maybe a half-dozen or so floors and the room was small, as Paris rooms can be, and comfortable as they can also be. This was back in the days before internet and google maps and even cell phones had limited abilities. So we just walked around and found somewhere to eat that was not too intimidating, went home and went to bed, woke up and visited the Latin Quarter which was within walking distance, came back, got our bags and flew back to America at noon. It was a short trip, basically a long layover, long enough to get a taste of Paris, and the first of many.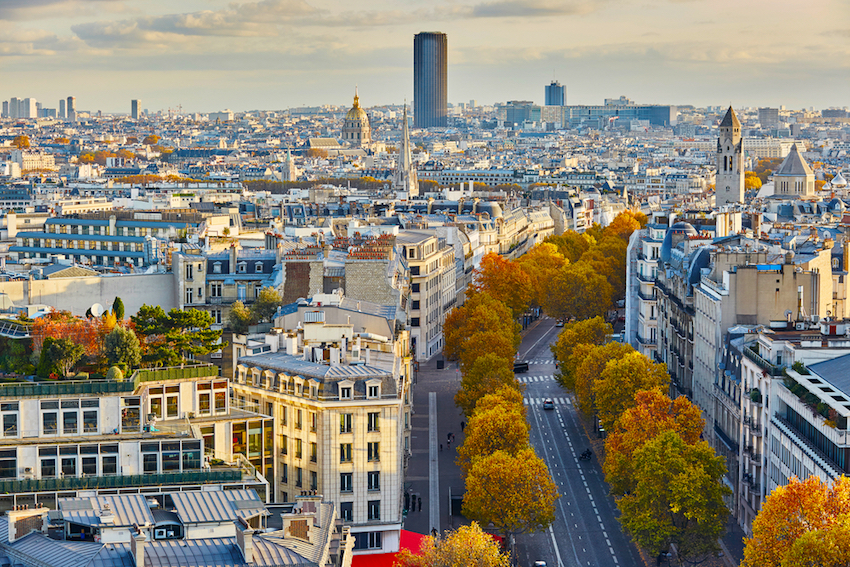 But in my short time staying in Montparnasse one thing puzzled me. Where is the mountain? If you are going to name a part of Paris after one of the largest mountains in Greece it should be visible. The neighborhood was flat, there was no sign of a hill, much less an entire mountain. Even climbing to the observation deck of the Eiffel Tower or to the Church of Sacre Coeur and looking in the general direction of Montparnasse there was nothing you could remotely consider calling a mountain. Just the usual sea of buildings and green spaces.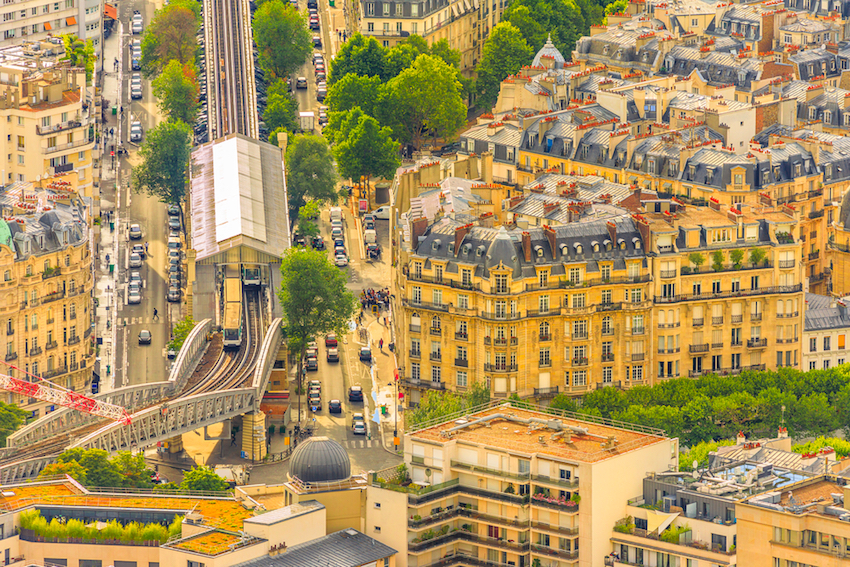 The fact is that there never was a mountain. Well, I shouldn't say never. It depends on the way you use the word mountain. For example you can have a mountain of work, or a mountain of debt, or in a strike a mountain of garbage. Or in the case of Montparnasse a mountain of debris, as in the rocks and dirt that was piled there when they dug the catacombs in the 18th century to ease the overcrowding of the cemeteries of Paris. Students used to come here to recite poetry, dance, and speak of romantic ideas, and they christened this pile of rocks Mount Parnassus, after the mountain in Greece mentioned by the Ancient Greek poets. The name stuck. And when the pile of rubble was cleared away to build the Boulevard Montparnasse all trace of anything physically resembling a mountain disappeared.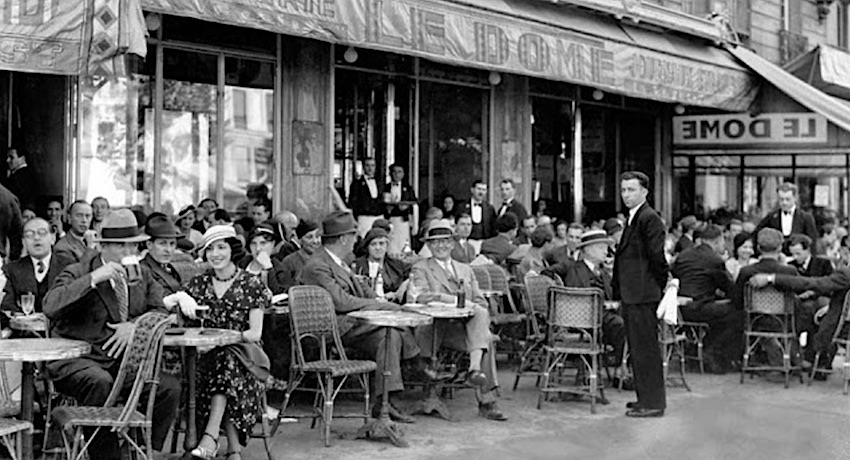 In the early part of the 20th century the area became a haven for artists, writers, musicians and young anti-establishment French people and in particular foreigners who were attracted by the low rents, cheap cafes and the number of other creative people in the area. If Montmartre was like New York's Greenwich Village then Montparnasse was the East Village, a mix of creativity, seediness and a rollicking good time in between bouts of poverty and destitution.
The people who lived, ate and drank in Montparnasse are a who's-who of the artists and visionaries who pretty much created our culture, including Pablo Picasso, Ernest Hemingway, Ezra Pound, Henry Miller, James Joyce, Henri Rousseau, Diego Rivera, Salvador Dalí, F. Scott Fitzgerald, Marc Chagall, Samuel Beckett, William Faulkner, Gertrude Stein and even Vladimir Lenin and Leon Trotsky. Montparnasse in the 1920s was referred to as les Années Folles (the Crazy Years), and in the 1930s as the heart of intellectual and artistic life in Paris. It became a magnet for creative people or people who just wanted to be around creative people because they believed that being around such people made you smarter, or if not, made life a lot more fun. By 1924 there were 30,000 Americans living in Paris many involved in the arts and there were a number of publishers and magazines putting out the works of writers who were too controversial for the USA but are now household names like Pound, Miller, Faulkner and Joyce among other. The Dingo American Bar and Restaurant at 10 rue Delambre was Hemingway's favorite place, likely because it was one of the only cafes you could drink after hours and so it was the final stop on most nights. Known as The Dingo it was featured In Hemingway's A Movable Feast. Isadora Duncan lived across the street and came here frequently.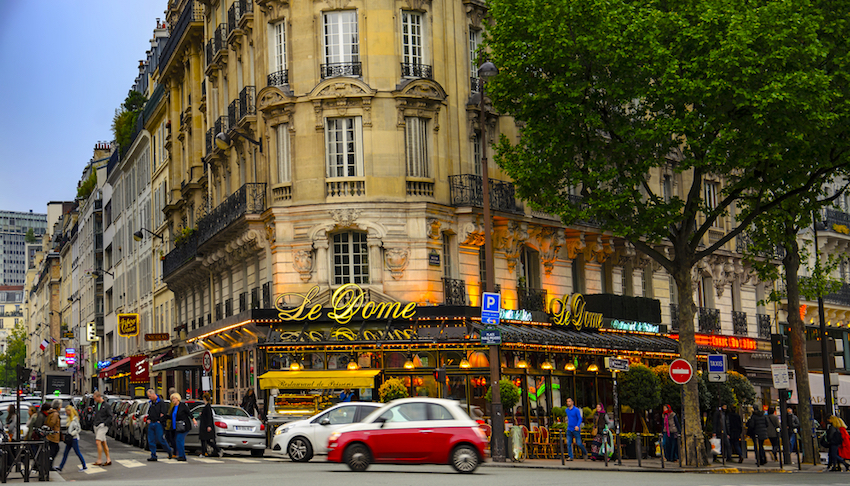 Life in Montparnasse revolved around the cafes, some of which still exist today and well read tourists seek them out, though most people on a budget come for the Breton style creperies on the Rue de Montparnasse. Cafe le Dome which opened in 1898 was the first of these cafes that became hangouts for the artists and intellectuals. It was known as the Anglo-American cafe and the people who frequented it were called Dômiers. These included Sinclair Lewis, Henry Miller, Anaïs Nin, Picasso, Pound, Hemingway, Kandinsky, Kahlil Gibran, Paul Gauguin, Amedeo Modigliani, Man Ray, Max Ernst, Lenin and Aleister Crowley, an interesting crowd to say the least. It still exists but not as a place where down and out or up and coming artists can get a cheap meal, but as a Michelin Star fish restaurant with more bad Tripadvisor reviews than good. (Actually more terrible reviews than every other review put together. But that kind of makes me curious).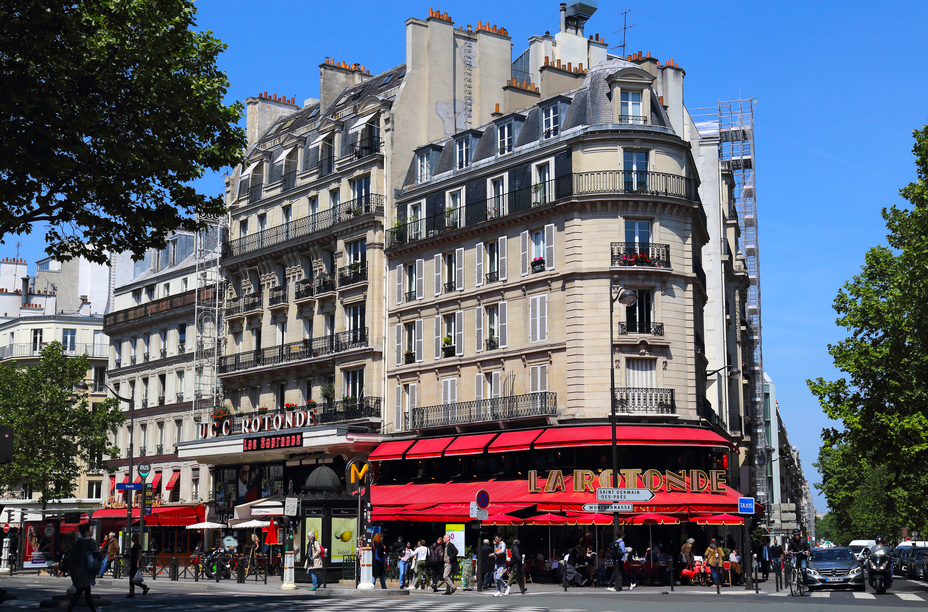 Other cafes from the period that still exist and are worth going to include La Coupole, an Art Deco masterpiece and the most famous Parisian brasserie in the world at 171 Boulevard du Montparnasse. Other cafes include Le Select at 99 Boulevard du Montparnasse, La Closerie des Lilas at 171 Boulevard du Montparnasse and La Rotonde at 105 Boulevard du Montparnasse where on a good night you might have found Picasso, Diego Rivera, Modigliani, and Nina Hamnet. These cafes fare much better on TA, worth taking a chance on just to experience them and there is a mix of locals along with the tourists which is usually a good sign.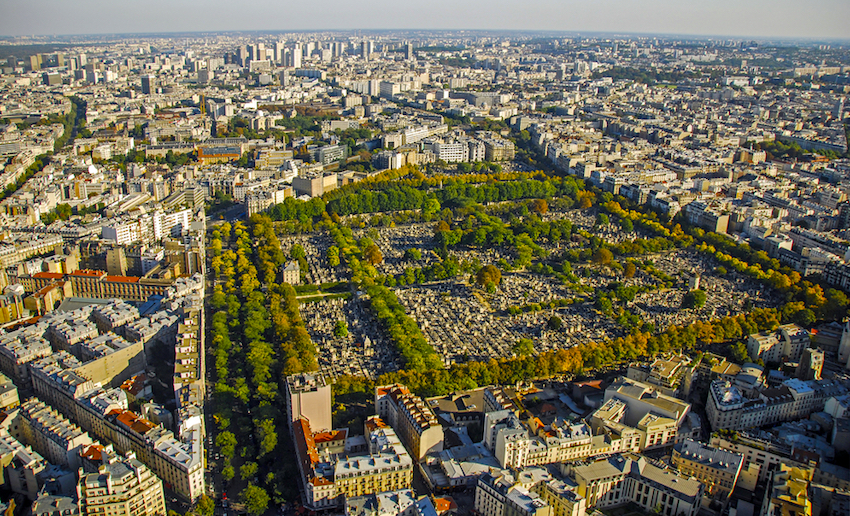 Though chances are slim that you will meet anyone as interesting as the people who used to frequent these cafes, you never know. But if you want to walk among great people you can visit the Montparnasse Cemetery, the second largest in Paris, where you can visit Samuel Beckett, Charles Baudelaire, Serge Gainsbourg, Simone de Beauvoir, Alfred Dreyfus of the Dreyfus Affair, Eugène Ionesco, Adamantios Korais, Guy de Maupassant, Man Ray, Jean-Paul Sartre, Susan Sontag, and 35,000 other former people. The cemetery was originally known as Le Cimetière du Sud (Southern Cemetery) and it officially opened July 25, 1824. Since its opening, more than 300,000 people have been buried in Montparnasse. The main entrance to the cemetery is north of Boulevard Edgar Quinet It is a 47 acre green space with a variety of trees, plants and of course graves. It is also a popular tourist attraction if you are feeling weird about going there. The closest metro stops are Raspail and Edgar Quinet.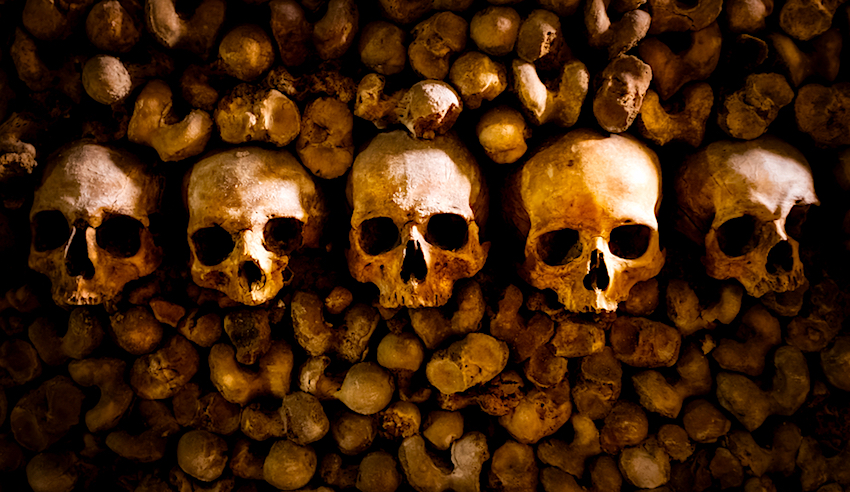 The Catacombs of Paris are a network of tunnels that were formerly the limestone quarries used in the building of Paris. There were just too many dead people in the city, and with dying being a daily occurrence they needed a place to dump the deceased whose bones had lingered longer than anyone who knew who they belonged to so they could make room for the newly departed. So starting in 1785 they began carting the remains of 6 million Parisians to an entrance created in a well above these tunnels. It too 2 years to empty the cemeteries, including Saints Innocence which was 600 years old and had over 2 million remains. The entrance is located at 1 av. du Colonel Henri Rol-Tanguy and it is open every day but Monday from 10am to 8:30pm. But be warned that lines are long so if you can find advance tickets book them. And also be warned that going down here will probably leave you pondering the meaning of life, if you have not begun pondering that already.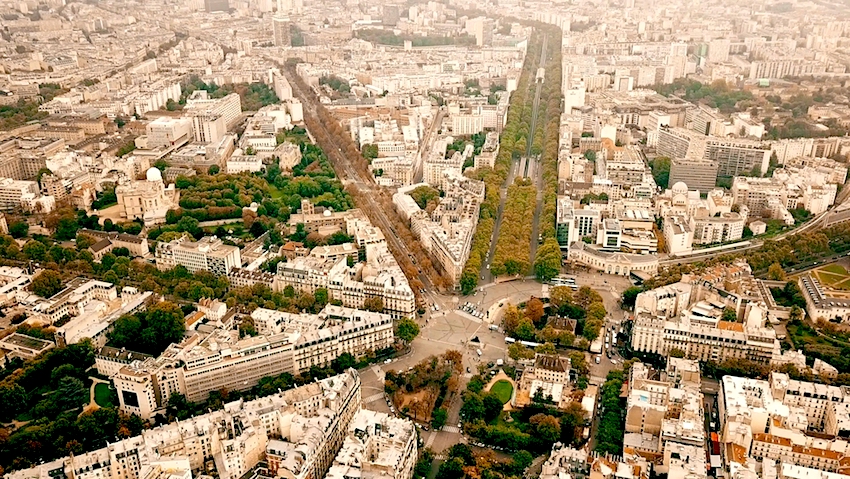 Nearby are The Liberation of Paris Museums: General Leclerc Museum and the Jean Moulin Museum, 2 separate museums, documenting the lives of French General Philippe François Marie Leclerc de Hauteclocque, the leader of the Free French Forces in World War 2 and French resistance leader Jean Moulin. The Musée Bourdelle at 18 Rue Antoine Bourdelle is a free museum that showcases the work of sculptor Antoine Bourdelle, a contemporary and a friend of Rodin. The Musee Zadkine at 100 bis, rue d'Assas is another free sculpture museum dedicated to the memory and the work of Ossip Zadkine (1890-1967), a sculptor of Russian origin, who lived and worked in the house and its studios, between 1928 and 1967. The Fondation Cartier pour l'art contemporain at 261 Boulevard Raspail is a contemporary art museum in a modern glass building with beautiful gardens, which are themselves a work of art created by Lothar Baumgarten.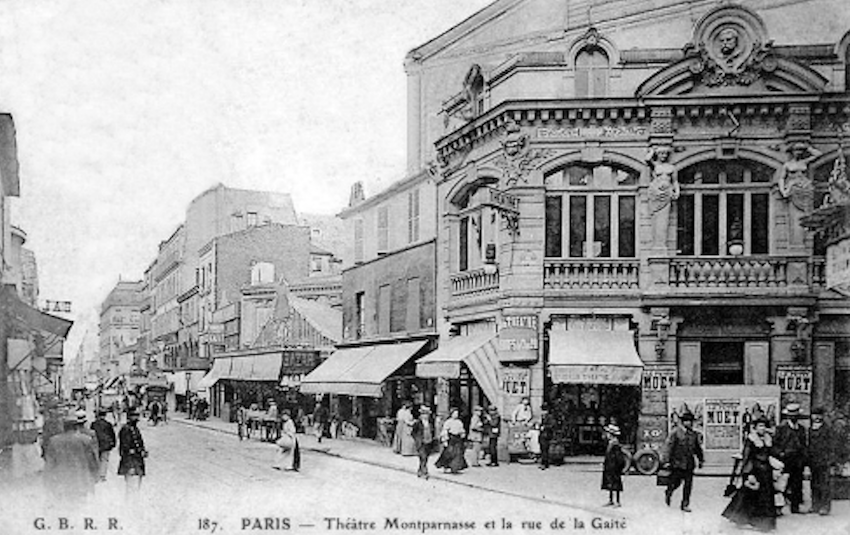 Rue de la Gaité is a beautiful tree-lined street full of cafes and restaurants as well as old theaters and cabarets most dating from the early 20th century but a history that goes back to the 18th century. Several of these theaters still have performances like the Theatre Montparnasse, Gaîté-Montparnasse, Bobino Theater, Comédie Italienne and the Rive-Gauche theatre.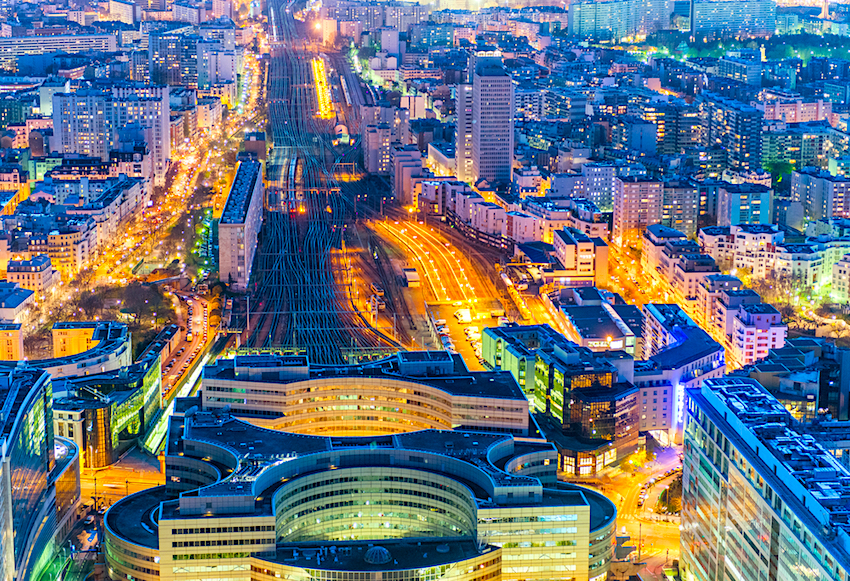 The Gare Montparnasse railway station opened in 1840 as Gare de l'Ouest and serves cities to the west and south-west of France including Le Mans, Rennes, Saint-Brieuc, Brest, Saint-Malo, Vannes, Lorient, Quimper, Angers, Nantes, Saint-Nazaire, Tours, Poitiers, La Rochelle, Angoulême, Bordeaux, Toulouse, Bayonne and Granville. The station is also served by suburban trains heading to the west and south-west of Paris. There is also a metro station but no RER.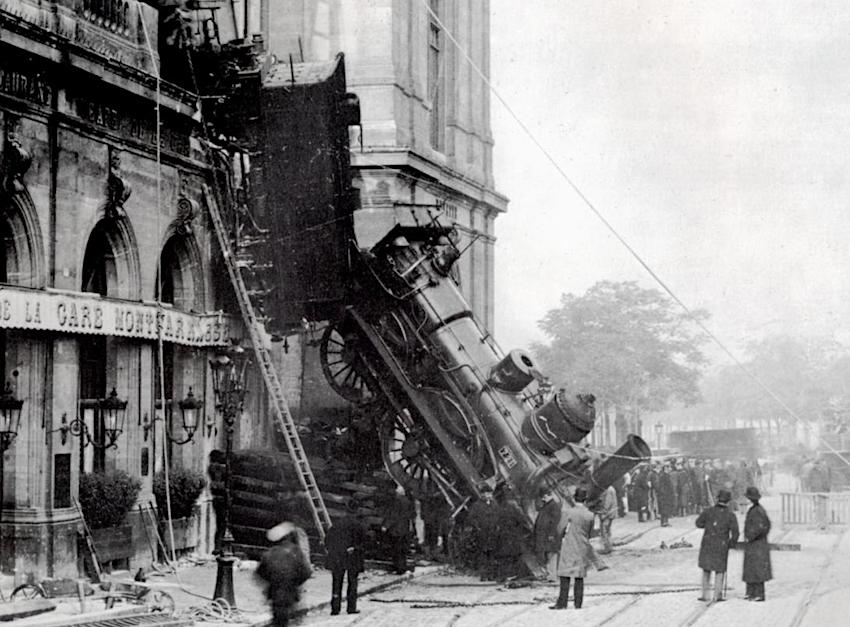 The original station is mostly known for the famous old photo from 1895 of the steam locomotive that had crashed through the wall of the station and on to the street below. The old station was torn down and a new modern station was built in 1969. Above the station is the Gardin Atlantique, a quiet green-space of trees, bushes, plants and flowers and a children's playground, surrounded by modern buildings.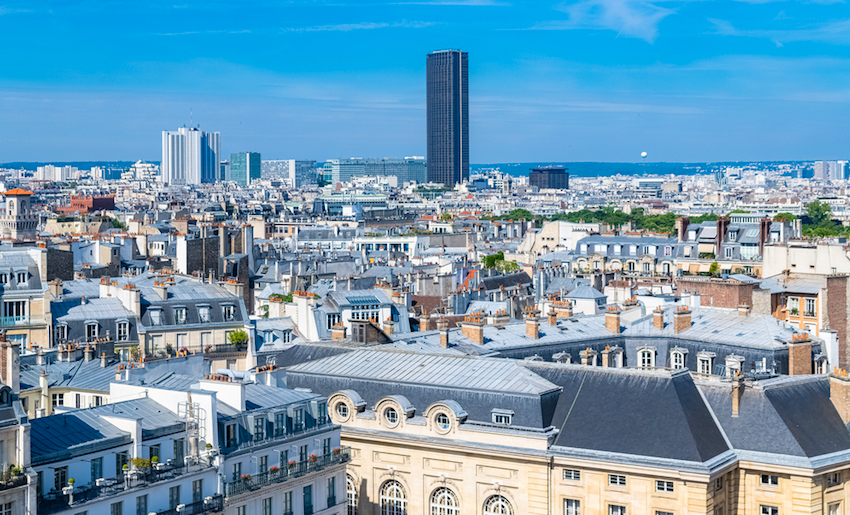 The Tour Montparnasse was the first skyscraper in Paris and it was so popular that upon its completion in 1973 they banned building anything higher than 7 stories. In 2008 it was voted the World's 2nd Ugliest Building, losing to Boston's City Hall in a controversial decision that has caused bitterness and jealousy on both sides of the Atlantic. Though taller skyscrapers were built in the La Defence financial district since the ban was lifted or ignored or whatever, the location of the Tour Montparnasse makes it look like a giraffe in a herd of gerbils, so out of scale that it looks ludicrous. People hate it, but they hated the Twin Towers in New York until they were destroyed so perhaps if there is ever a dismantling of the Montparnasse Tower (It is loaded with asbestos) perhaps one day people will look back with nostalgia at the place with the best view in Paris, if only because it is the only view that it can't be seen. There is a restaurant on the top and an observation deck if you are interested. Anyway you will be happy to know that the tallest building, if you can call it that, is still the Eiffel Tower at 324 meters. But there are two building under construction that will both be 323 meters.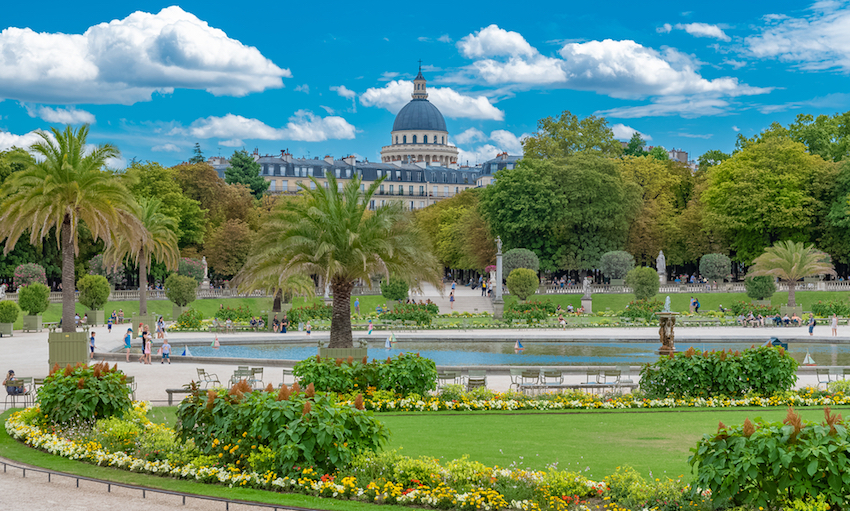 Staying in Montparnasse may look like you are further from the old center of Paris than you really want to be but actually it is an easy walk, made even easier by the Luxembourg Gardens which actually begins with the Jardin des Grands Explorateurs, a long narrow protrusion on the south side close to the intersection of the Boulevard Port Royal/Boulevarde Montparnasse and the Bloulevard Saint Michel where there is also the Port Royal RER Station. Once you get past the gardens, either by going through it or going north on Boulevard Raspail or Bloulevard Saint Michel you will find yourself in the heart of Saint Germain and the Latin Quarter.
Hotels in Montparnasse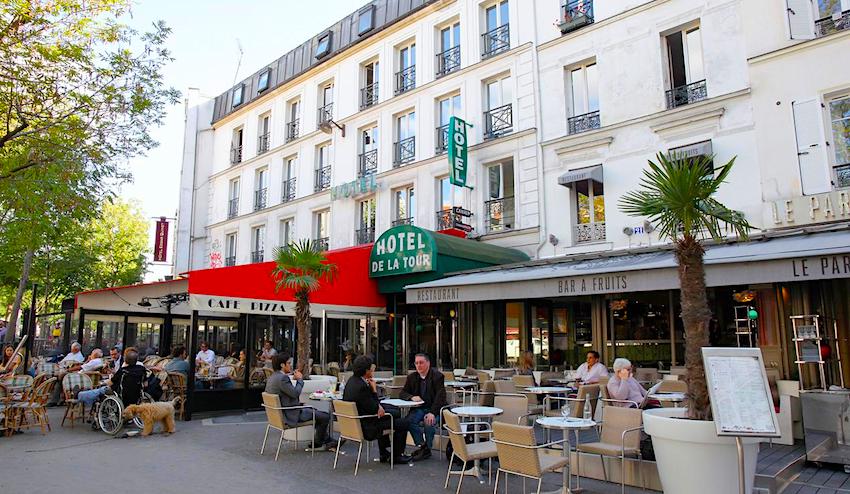 There are plenty of places to stay in Montparnasse but here are a few of the better hotels to get you started and you can use the maps and search options to find others. Located on a quiet tree-shaded street, close to cafes and restaurants the economical Hotel de la Tour offers pet-friendly accommodation, free WiFi and free bicycle hire. The Mercure Paris Gare Montparnasse Hotel is just 500 feet from Montparnasse Train Station and is on the same street as many restaurants and theatres. It offers air-conditioned rooms with free WiFi. The hotel is a 15-minute walk from the Catacombs of Paris. The Hôtel La Parizienne by Elegancia is a design hotel located in in the chic 6th district in Paris, a 10-minute walk from the Luxembourg Gardens. It has a 24-hour reception and free WiFi access is provided throughout. The Legend Saint Germain by Elegancia Hotel is located a 10-minute walk from Saint-Germain-des-Prés and a 5-minute walk from Montparnasse Train Station. The Hotel des Academies et des Arts is a boutique hotel dedicated to the creative arts. It features a video art room, a courtyard and offers an airport transfer service using eco-friendly vehicles. The luxurious rooms have satellite TV, free WiFi and are uniquely decorated. Located in the heart of the Montparnasse district, the Hôtel Aiglon - Esprit de France is a design hotel located just 100 feet from the Raspail Metro stop. Guest rooms are modern and stylish with free Wi-Fi access. Hotel de la Tour offers pet-friendly accommodation, free WiFi and free bicycle hire. The Hotel Le M is a boutique hotel with a cocktail bar, a fitness room and offers modern, air-conditioned rooms. There are dozens more hotels in the area and even more apartments so use the Paris Hotel Search and maps to find what you want where you want.
You can also find apartments and hotels in Paris by location by using the Stay22 Paris Map.