Paris is known for its nightlife and chances are that even when you have spent a full day of visiting museums and galleries, walking the streets, eating, shopping and exploring, after a short rest you will still want to go out and see that the city has to offer. If you are like me that may just mean finding a nearby cafe to have a glass or two of wine and decide where to go for dinner. A small bistro may have you conversing with your neighbors at the next table until it is time to go home or visit a nearby bar or jazz club or even a famous cabaret or two. You can find plenty of suggestions in the large number of guidebooks and the culture and entertainment magazines and brochures which will most likely be in the lobby of your hotel. But for those of you who don't want to make too many decisions, and just want to be told what to do here are some ideas based on what I have done in the past and some ideas which I got from doing what any normal person who visits Paris would do, which is reading a guidebook or two. But keep in mind that Paris is one of those places that you can walk around and see amazing buildings and statues lit up dramatically so if you are of college age, before you get too wasted in one of the many bars or clubs take a walk around the city after dark.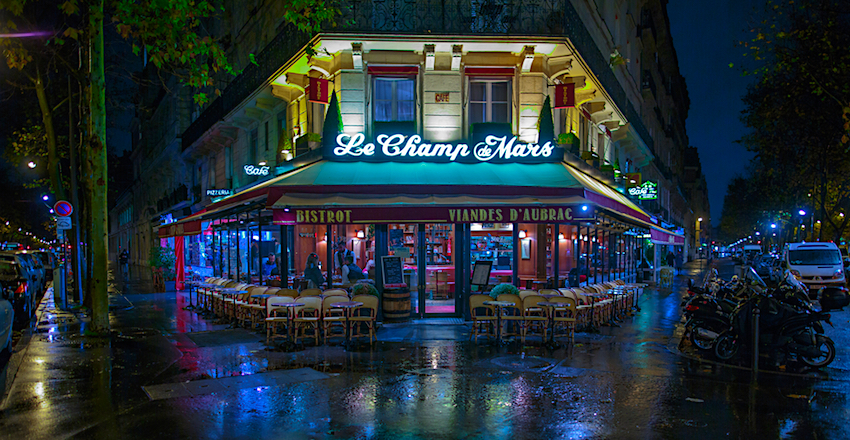 Probably by evening after a day of exploring the wonders of Paris you will have passed several cafes that looked interesting and are right around your hotel. A cafe with a decent view of the street,and a few young people who look like they could be students, is not bad place to begin your night with a glass of wine or two. You have probably read elsewhere in these pages that the Cafe Mairie is one of my favorite places to hang out and strangely enough when I told this to my friend and fellow Sifnos musician Simon Wroe he told me that this is where he spent much of his time several decades earlier. Later I found that this little cafe had historical significance during the student strikes of May 1968. It is an unpretentious place with interesting people and it is also where Rue de Canettes meets the Place St Sulpice which is loaded with restaurants, bars, Jazz clubs and even a micro-brewery. You can find this area easily by going up Rue du Four from where it intersects with Blvd St Germain at the Mabillon metro station. Or you can take the #4 metro and get off there or at St Sulpice. But probably you will want to go to the Cafe de Flor and the Brassierie Lipp or Deux Magots on Blvd St Germain for a drink, despite the fact that they are more expensive because after all, how could you not hang out in the places where Hemingway and Sartre spent much of their time? It's OK. Just because every American tourist in the world goes to these three places, that does not mean it is not a cool thing to do. Another better choice is the funky and faded elegance of the Cafe Panis, right down from Shakespeare and Company and across from the Cathedral of Notre Dame which is more reasonably priced and has also been a favorite of writers, poets and artists of the past.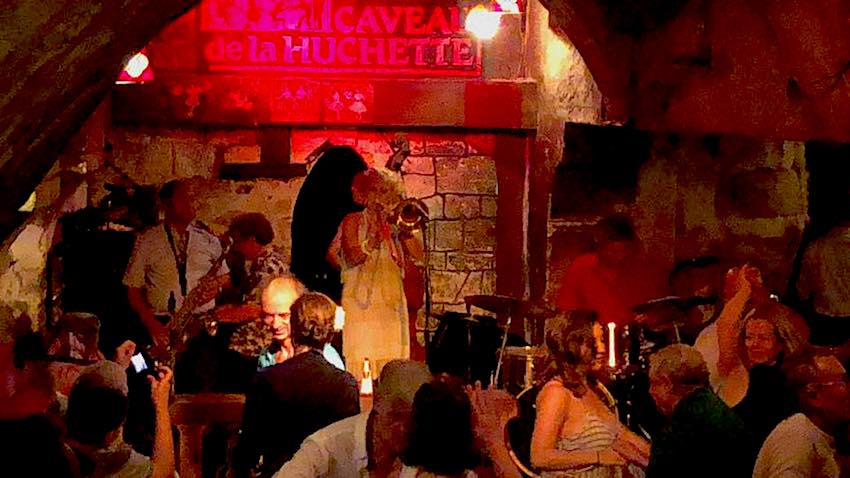 The whole area between Blvd Saint Germain and the river is full of bars, cafes, small clubs and restaurants including an Irish pub on Rue St Andre des Arts and a Canadian Bar right on the river which if you happen to be in Paris over Thanksgiving serves a Turkey dinner and shows American Football. If you want to speak to people in English these X-pat style bars are good choices and coming here in the off-season you will actually find that many of these people from Ireland and the UK actually live here. In the summer finding someone who is not a tourist may be difficult. Crossing Blvd St Michel the nightlife continues and the restaurants and fast-food joints proliferate. The area across the street from the statue of St Michel is a sort of open air stage for break dancers and street performers right in front of Espace St Michel art cinema which shows rare films that you may not see unless you live in a college town. There are the Greek restaurants with live music that I was not permitted to go in by my wife only because it was not Greece. But on Rue de Huchette the famous jazz bar Le Caveau de la Huchette: The Famous Temple of Swing has live music every night in a club that has seen some of the world's most famous jazz musicians in its long history.
Which brings us to the subject of Jazz clubs. Paris as you probably know, was importing jazz musicians from the USA back in the day when most Americans had never heard of it and many who had thought it was the music of the devil. Jazz greats like Dexter Gordon, Miles Davis, Bud Powell, Sidney Bechet, Lionel Hampton, Coleman Hawkins, Kenny Clarke, Don Byas, Bill Coleman, and Lucky Thompson brought their music from the USA to the clubs of Paris where they found appreciative audiences and jammed with musicians from Europe like Django Reinhardt and Stephane Grappelli. All over the city are bars that feature live jazz and a number of large clubs where you may actually hear someone whose music you know and the website Paris Jazz Club, a non-profit organization created in to promote, celebrate and democratize jazz, has a daily concert and club listing which makes music easy to find.
Jazz Cafe Montparnesse at 13 Rue du Commandant-Mouchotte next to the Gare Montparnasse features live big band, salsa, blues and rock music while its sister-club the Le Petit Journal St Michel at 71 Blvd St Michel focuses mainly on New Orleans Jazz. Jazz Club Etoile, the former Lionel Hampton Jazz Club, at Méridien Hotel, 81 bd. Gouvion-St-Cyr, northwest of the Arch de Triumphe and the Champs-Elysées is an institution and features performances by some of the best artists and groups in contemporary jazz. 7 Lézards at 10 rue des Rosiers in the Marais is a jazz-club restaurant in a very old building and features young and promising musicians as well as established names. The Paris-Prague Jazz Club on 18 rue Bonaparte, in an ancient stone cellar near Saint Germain des Pres Church has low prices for its student-age clientele and features modern and traditional jazz, blues, western swing and zydéco.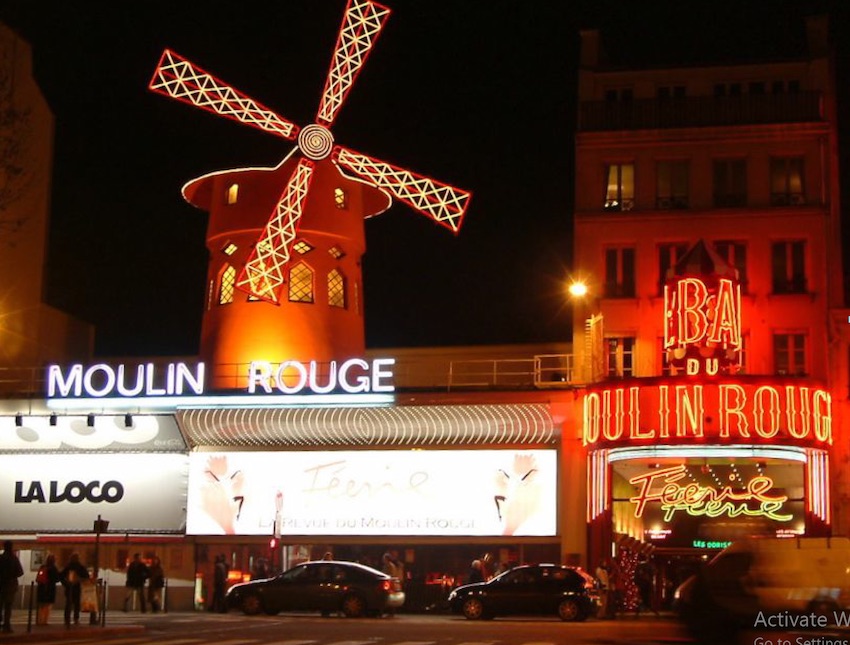 But wait... isn't Paris nightlife famous for something else? Dancing girls... the Can-Can... sequins and Michele Kidman...of course! Cabaret: The Moulin Rouge which you have to go to (not that I have ever been there) if you don't want to let down your friends when you tell them about your trip to Paris. How can you not go to a show that includes consists of a troupe of 100 artists, including 60 Doriss Girls recruited world-wide wearing 1000 costumes of feathers, rhinestones and sequins, made in the most famous Parisian workshops uniquely designed by Italian artists performed to original music recorded by 80 musicians and 60 chorus singers? Elegant attire is required though a tie and jacket are not necessary. In other words no shorts, no short-pants, no sport shoes, no sportswear. What you will need is a credit card. The cheapest tickets without food or champagne will cost about 80 euros and you should probably get reservations in advance. The good news is that the club is now non-smoking. Its at 82 boulevard de Clichy in Montmartre.
Then of course there is The Lido at 116 Ave des Champs-Elyseewhere you can see the famous Bluebell Girls and the Lido Boy Dancers, enjoying dinner with the Lido band before the big show begins.
Le Crazy Horse Saloon is a cabaret known for its stage shows performed by nude female dancers, magicians, jugglers, and mimes and recently started featuring famous or prestigious artists stripping like Carmen Electra and Pamela Anderson. So if you are a young guy fresh out of college on your first trip to Europe are you not going to go to a huge club to see Pamela Anderson take off her clothes? Well you don't have to hurry because as the club owner Alain Bernadin explains " And what we do with the girls is magic, too, because they aren't as beautiful as you see them onstage. It's the magic of lights and costumes." This should add a few more years to Pamela's career. The club is at 12 Avenue George V and you will probably want to make a reservation on Pamela Anderson night.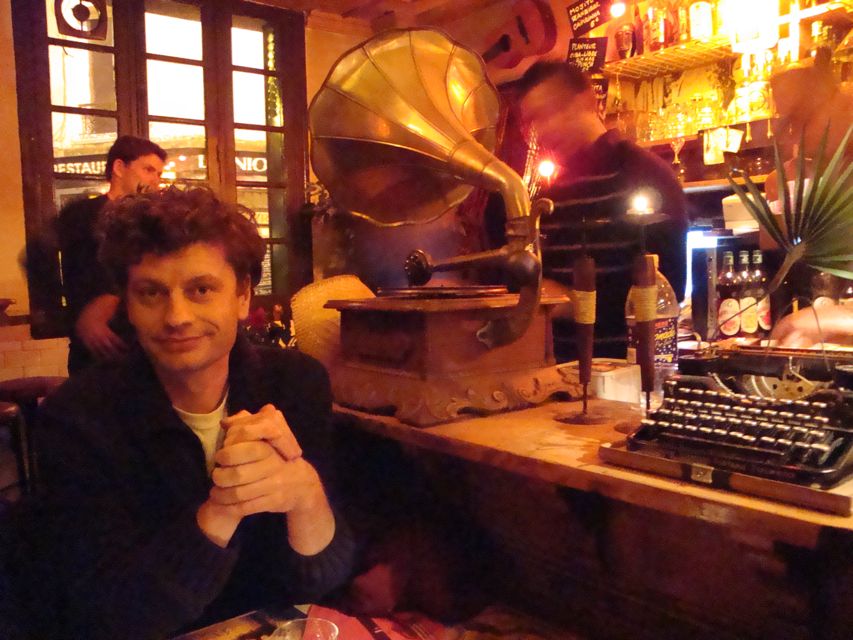 Of course in the summer the streets of the Marais, Saint Michel and Saint Germain areas are full of young people, street musicians, jugglers, mimes and break dancers so by just sitting in one club, bar or cafe you are missing out on a world of activity. But by getting a copy of Time Out you can see who is playing where, what bars and clubs are cool, and plan accordingly, using the busy streets as a river of events to get you to your next destination. Like any cool city or college town the walls are plastered with posters and flyers and you may be surprised at who is playing in town the week (or sometimes the week after) you are there. There are dance theatres, plays, films (often in English) and of course rock clubs. For pop and rock try the Cafe de la Danse at 5 passage Louis-Phillipe near the Bastille which has live music most nights. The Rue Oberkampf which connects Blvd de Belleville and Ave de la Republique has a number of cool places, mostly unpretentious and lower-east-sidey. Just take the metro to Parmentier and walk up to the circle at Menilmontant, turn around and go back and find somewhere you like. Try Cafe de la Industrie at 16 rue Saint-Sabin near the Bastille for a nice place to hangout and eat and drink in a dark atmosphere of faded elegance, with live Jazz on Sunday through Tuesday, and you may feel like a real Parisean. La Fine Mousse, at 6 avenue Jean Aicard is one of the few craft beer halls in the city, with many beers on tap and over one hundred different bottled beers, many of them French, whose owners have taken it upon themselves to educate Parisians on the under appreciated pleasures of French craft beers.
Anyway you get the idea and if you pick up a copy of Time Out you can see who is playing, what clubs are cool and other things to do at night. If you can't have fun during an evening in Paris then there is probably something seriously wrong with you.