Even someone who does not know the Venus di Milo from Venus Williams will still be impressed with the Louvre. The building itself being so spectacular. Same thing for the Musee d'Orsay which is a converted train station. Fill it with the finest art from the mid-1800s to the early 20th century and anyone who knows anything (or nothing) about painting will find something to get excited about, whether it be Van Gogh, Renoir, Monet, Cezanne, Matisse or Whistler's Mother.
The Gare d'Orsay, as the train station was called, was built in just two years, from 1898 to 1900. Rendered obsolete with the electrifications of trains and the fact that the platforms were too short it was closed in the thirties, only to appear in the Orson Wells film of Franz Kafka's The Trial and Bertolucci's The Conformist. Scheduled for demolition to make way for a new hotel in the seventies, it was declared a National Monument and rennovated. It is now most known for its collection of Impressionist art.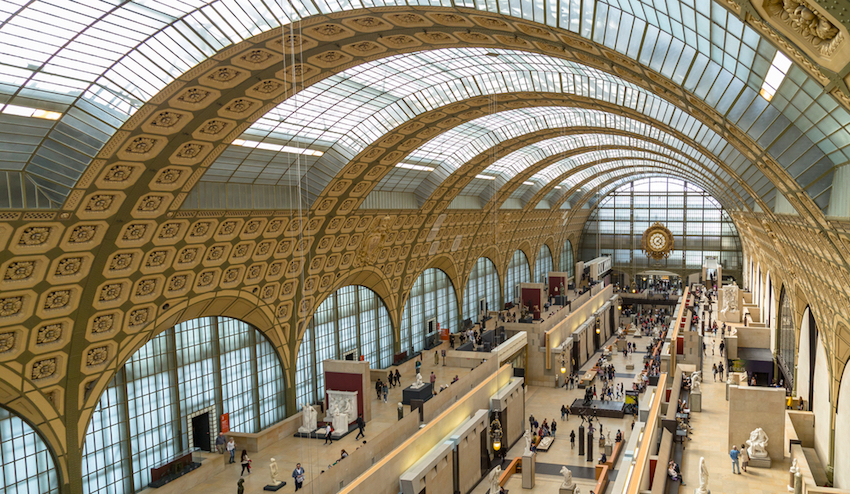 Unlike the Louvre you can actually see the whole museum in a few hours. It is located at 1 rue de Legion d'honneur right on the river between Pont Royal and Pont Solferino across from the Jardin du Carrousel. It is open daily except Monday from 10am to 6pm. Thursday it stays open until 9:45 Pm and Sunday it opens at 9am. There are guided tours in English on Tues-Sat at 11:30am and 2:30pm. The museum has a bookshop, cardshop and boutique, A restaurant, tea-room and cafe and a great view of Paris from the rooftop terrace, which is unfortunately closed in the winter. The museum has numerous elevators and access ramps. Strollers and wheelchairs are available in the cloakroom.
I have put together this photo tour of the Musee d Orsay. Click on the photos to enlarge.