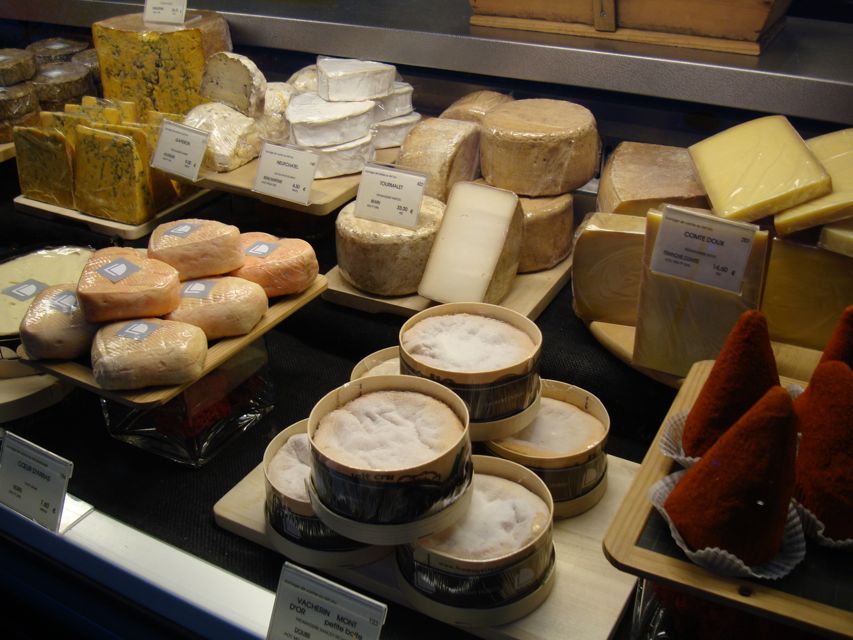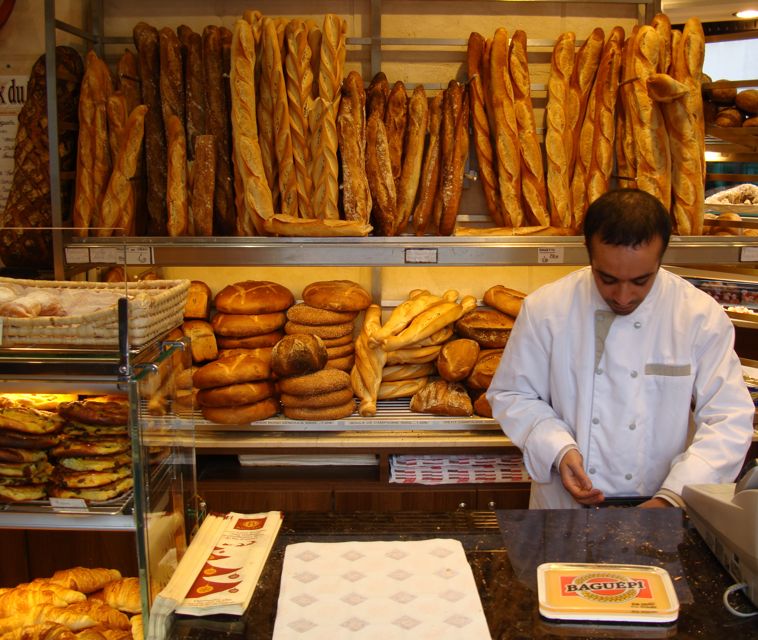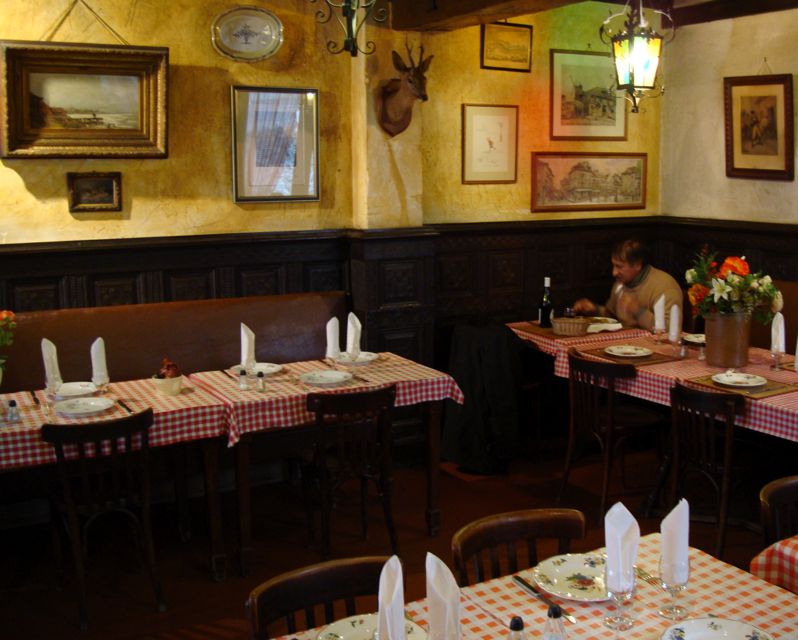 One of my observations was that Paris had more restaurants than shops. I don't know if this is true or not but it seems to me that the Parisians found more pleasure in eating than they did in buying stuff and in my opinion this is a very healthy attitude and made me convinced that Paris was my kind of city, maybe as much as Athens is.
Paris Restaurants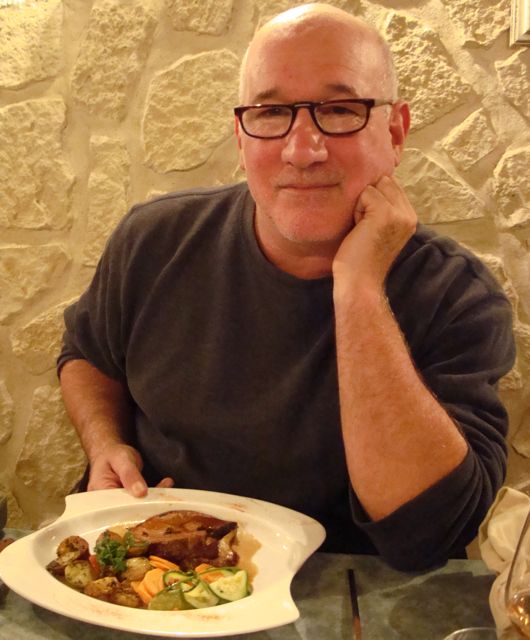 I am not an expert on French Cuisine but I know what I like and in Paris I liked almost everything I ate. If you have never been to Paris or have not been there enough to really know about French food I recommend to find a website about it and study it and write down the names of the things you think you might like to try because you may find yourself in a restaurant where the menu is only in French, which can be the case in many of the best restaurants. You may find an accommodating waiter who will translate one or two things on the menu for you but it is unlikely he will go line by line until you pick something. Some of the guidebooks will have a section on French food and what to order and if they don't they should but it depends on the size of the book. The popular pocket guides that are easy to carry around usually don't have a lot of space to go into detail besides giving you a general overview and recommending a few restaurants. So just as you would take a course on European Art and History before going to Paris, spend some time studying the food. Our first night we ate at a small Bistro called Le Lutin dans le Javulin (photo) on rue Git-le-Coeur, a tiny street that runs between Rue Andre-des-Arts and the river, about a block from the giant statue of St Michel killing the dragon at Place de St Michel. There was one other couple there and the young waiter had plenty of time to explain what everything was in English. It was a very nice dinner for a first night in Paris and the fact that my daughter refused to leave the hotel with us made it easier to fumble along, making mistakes in French, without her criticizing us.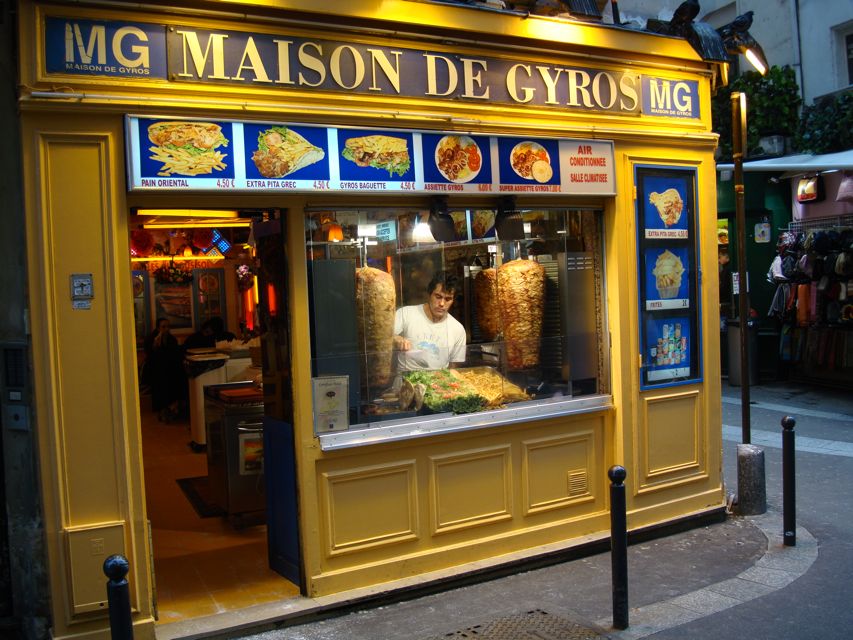 There are several catagories of Paris eating places starting at the top-end gourmet places which usually have a name chef and will cost almost as much as your airfare, and more if you flew Easyjet. Bistros, Brasierres, Creperies and Cafes all serve food and are generally in the affordable range. They usually have a menu and some daily specials (plat du jour) and often they will have a set price menu as well where for say 25 euros a person you get an appetiser, a main course and desert. There are plenty of fastfood places too and you can eat well for little, feasting on souvlaki, gyros, falafil and the baguettes and pastries you will find in shops all over the city. If you are staying in the Latin Quarter the famous Rue de Huchette is full fastfood places and 'traditional' French and Greek restaurants though I have yet to see a guidebook that recommends them. There are also some sit-down Greek restaurants in the same neighborhood that advertise the adventures that await you inside with a pile of broken plates at the entrance. They also have live music. If seeing is believing then I would take a chance on something middle-eastern or Greek if I was hungry and poor or didn't live year-round in Athens where they no longer break plates, but throw flowers instead. As it is I had some spending money and I really don't like dancing on broken plates, or to eat standing up, so here are a few of the places I went to...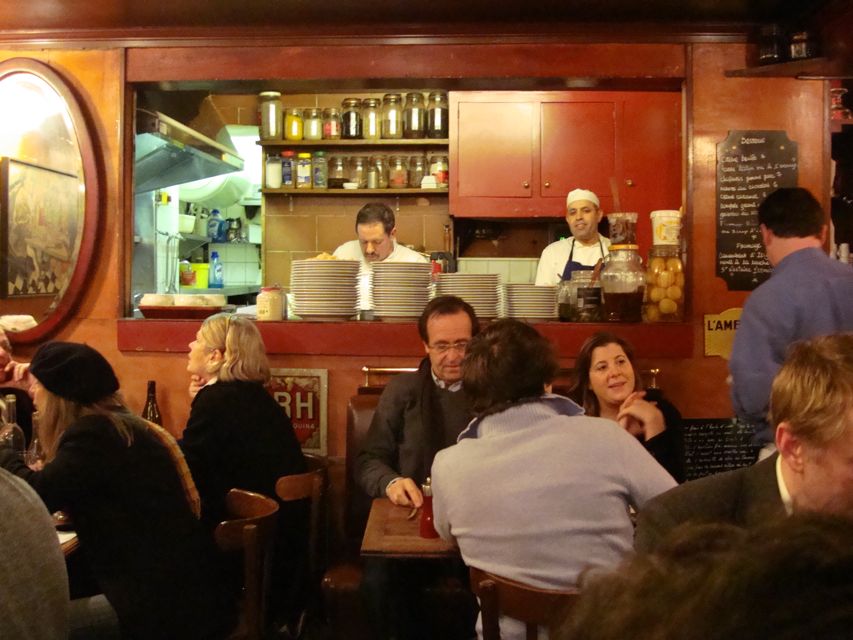 The area between the Square of St Sulpice and Blvd Saint German, more precisely Rue de Cannetes, and Rue Princesse and the streets around them seem to be a can't-miss neighborhood when it comes to just picking out a place by the way it looks and leaving satisfied. My favorite was le Bistrot d' Henri at # 16 Rue Princesse (tel 01 46 33 51 12), a tiny restaurant with a chalkboard full of daily specials and an atmosphere like a Greek basement taverna during Carnival. This is the kind of place you go to Paris for and if you go here first you will have time to eat here again. If it is full try their sister restaurant Chez Julien at 16 Rue Mabillon (tel 01 43 54 56 08) just a couple blocks away which specializes in fish. For both places come early, late or make reservations on weekends. Also nearby is the restaurant with the name you will never forget but tastes better than it looks, the L'Enfance de Lard on Rue Guisarde which intersects with both Rue de Canettes and Rue Princesse which serves traditional French cuisine at a reasonable price. If you are craving Italian food try Santa Lucia at 22 Rue de Canettes which is as authentically Italian as you will find outside of Italy. It is the only restaurant I have ever been to where I saw a customer have a heart attack and be taken away on a stretcher by paramedics. Yes, its that good. (But it may be closed now).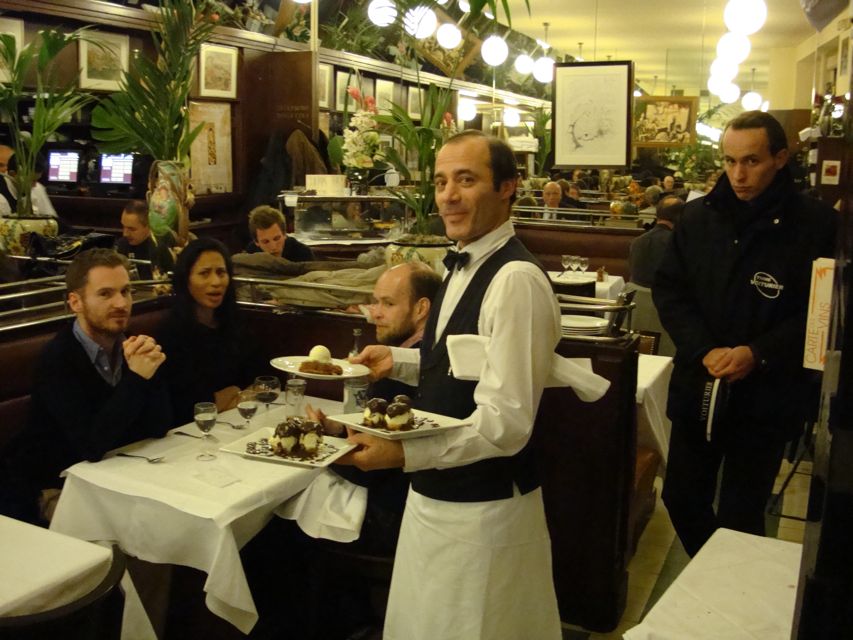 For a treat, though not an overpriced one go to Brasserie Balzar at 49 rue des Ecoles near the Sorbonne which has been open since 1898, but make sure you have a reservation if you are going on Friday or Saturday night. I had the charcot plate with sauerkraut, more German than French in my mind but if I did it again I would get the pepper steak with the home-made fried potatoes (French fries of course) which looked amazing. It's simple, traditional French cooking. If you don't eat meat try the rai which is some kind of stingray and tastes and has the texture of shark. Really terrific waiters and if you speak to them in bad French you may be rewarded when the speak back to you in good English. If you have read Paris to the Moon by Adam Gopnick this is the place that the waiters and the neighborhood protested the new corporate ownership. We were there after the changeover and it was good and we went with people who had been eating there for decades who still liked it though they said it was better in the old days.
If you are up at the top of Montmarte try Le Vieux Chalet which has a set menu and is one of the only restaurants on the mountaintop village that has been continuously owned by the same family and still maintains a traditional atmosphere and serves traditional food, the proverbial 'place the locals eat'.
According to Cindy Bellinger from my Greece Travel Group on Facebook L'ilot Vache at 35, rue Saint-Louis on the Isle Saint-Louis is a cozy bistro in a beautiful old building serving very good food, with good service and a lovely atmosphere. Try the Lamb Shank with Potatoes Dauphinois, Salad with Warm goat cheese, Beef Bourguignon, Foie Gras, Duck Confit and their Chocolate Mousse. Tables are close to each other but if you like making friends this is a good thing and completely normal in Paris. Many people who eat here their first night in Paris come back at least once more. Great atmosphere that makes you happy to be in France. Go for the prefix menu which is €38 including salad, entrée and the dessert.
Sally Peabody suggests... "Les Papilles on rue Gay Lussac-- run by a guy who was the pastry chef at Taillevant and who started this excellent little bistro. It is tiny, animated, and they offer a set menu every day but the food is amazing. Avant Comptoir in the Carrefour de Odeon makes great take away crepes and has fantastic Basque/French tapas. Always totally packed but wonderful."
Dave Rochelle from my Greece Travel Group on Facebook says "La Tartine at 24 rue de Rivoli are famous for its open sandwiches (tartines ) served on sour dough from Poilane and its rude waitresses over 100 years old, a hang out for Trotsky and his pals in the good old days."
Also try L'Industrie at 16, Rue St Sabin near the Bastille which serves good food, served by beautiful waitresses in an atmosphere that will make you wish you had been around in the thirties.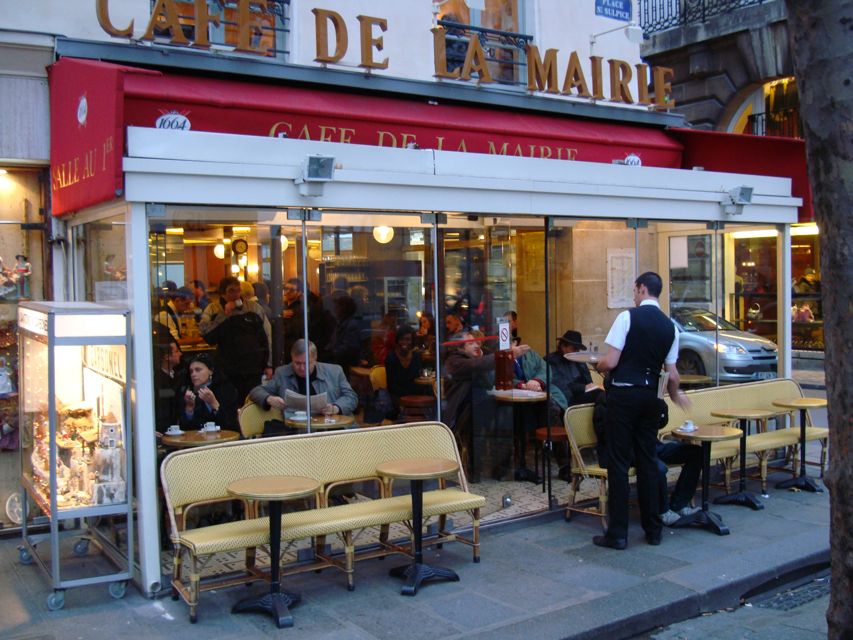 You can find decent food at most cafes and braserries and finding a good one will be just as easy on your own as with a guidebook. Any of the famous places like Café Les Deux Magots or Café de Flore will cost a lot more than some hole in the wall on a back street and may not be any better. But that's the price you pay to sit where the world's greatest artists and writers once sat. But if you are practical you can pass them up and find your own special place and maybe one day people will eat there because you did. My favorite afternoon and morning hangout, Cafe de la Mairie is at the top of Rue de Canettes on the square of St Sulpice and they serve inexpensive cafe food, great coffee, salads, sandwiches, delicious wine and deserts of course. Its the most down-to-earth cafe that I found in Paris. If the downstairs is full then go upstairs. Of course the best time to be here is in the warm weather when you can sit outside ansd watch the square (and the foot and automobile traffic) but its a very warm and cozy place in the winter.
Simon Sez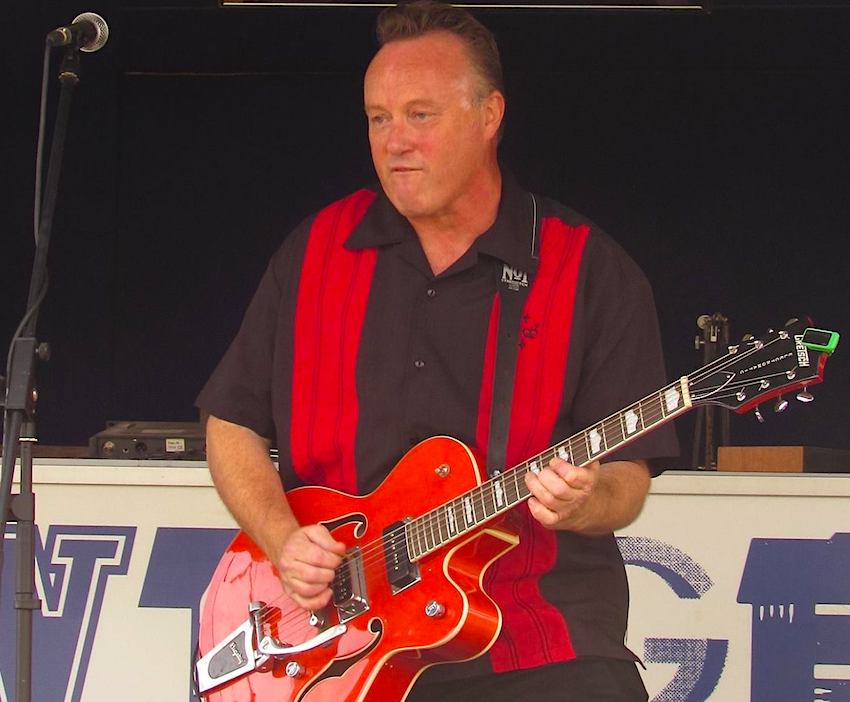 After I wrote this section my friend Simon Wroe, a classic rocker from the UK who lived in Paris but I had not seen or heard from in years, wrote and told me that he googled Cafe de la Mairie and found this article and could not believe it. This was where he hung out every day while he was living in Paris. Simon also recommends Chez Omar at 47 Rue de Bretagne in the upper Marais and says "Chez Omar may have been there since the 50s & is quite unchanged. Old school in every way but a working persons' restaurant & very affordable. It's classic Moroccan cous cous with different meat choices. Worth trying the Cous Cous Royale so you can taste all of them. No reservations. It was fashionable when I was there but no longer in any listings so I went there a couple of years ago & guess what. It was just as good, the people had changed, not the restaurant. I worked round the corner & took countless dates there. If the boss' wife didn't like my date, my meal was hell. I love them." He also mentions "Chez Robert & Louise at 64 rue Vieille du Temple, also in the Marais where they cook the meat on an open fire. Utterly unchanged for decades. Also try the Basque restaurant Chez Gladines at 30 Rue des cinq Diamants in the 13th, a great restaurant in an area worth checking out just south of the center. But if you don't want to stray too far from your comfort zone they have another Chez Gladines at 44 Boulevard Saint-Germain, one at 11 bis Rue des Halles and another at 74 Boulevard des Batignolles. But the one in the 13th is considered by some to be the best budget restaurant in Paris. Also try Le Rubis, 10 Rue du Marché Saint-Honoré. The same since the 30s, game, pork, sausage & pulses to eat as the French always did. It's expensive because of the neighbourhood but still totally real & for me worth it."
Going Asian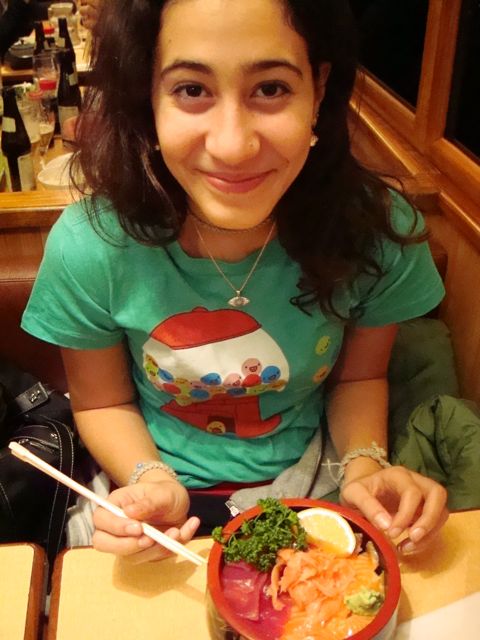 There are Chinese and Japanese restaurants scattered all over the city. We liked a friendly little sushi place called Matsuya at 39 Rue Galande between the river and the Sorbonne behind the Square R Viviani. In fact my daughter went back just about every night after she decided she did not really like French food. I could not tell you if it was the best in the city but it was better than I expected and not as expensive as I expected. For more Japanese restaurants check out Rue Monsieur le Prince near Blvd St Michel which has several. Paris does have a Chinatown, by the way. At least two. The first is in the 13th in the southeast part of Paris near the place d'Italie and it is the largest Chinatown in Europe made up of more than 450,000 Chinese, Vietnamese, Cambodians and Laotians. It is also full of Chinese and other Asian restaurants as you might expect and the kind that cater to eastern clientele rather than tourists (though that should be an incentive rather than a deterent). Try Mer de Chine considered by many to be the best Chinese restaurant in the city at 159 rue Château des Rentiers. The second Chinatown is in Belleville and there are numerous restaurants and oriental groceries on Rue de Belleville and scattered around the area. But you really don't have to travel far to eat Chinese food. There is probably a restaurant within a couple blocks of whatever hotel you are at, no matter where it is. There are several hundred of them in Paris.
Or take the advice of Sally Peabody who says "If you like Asian forget the places on Monsieur le Prince-- they are OK but just Ok. Head for the rue St. Anne on the right bank. Higuma has great noodle soups and there are other better choices. That's where you see the Asians visiting Paris. I also found an amazing place called Les Pates Vivant on rue Faubourg Montmartre which makes handmade noodles and believe it or not, really great HOT szechuan food. That is almost impossible to find in Paris. There is also a huge 'Chinatown' out near the Place de Italie and several good places up in Belleville near where the rue de Belleville and the avenue de Belleville cross."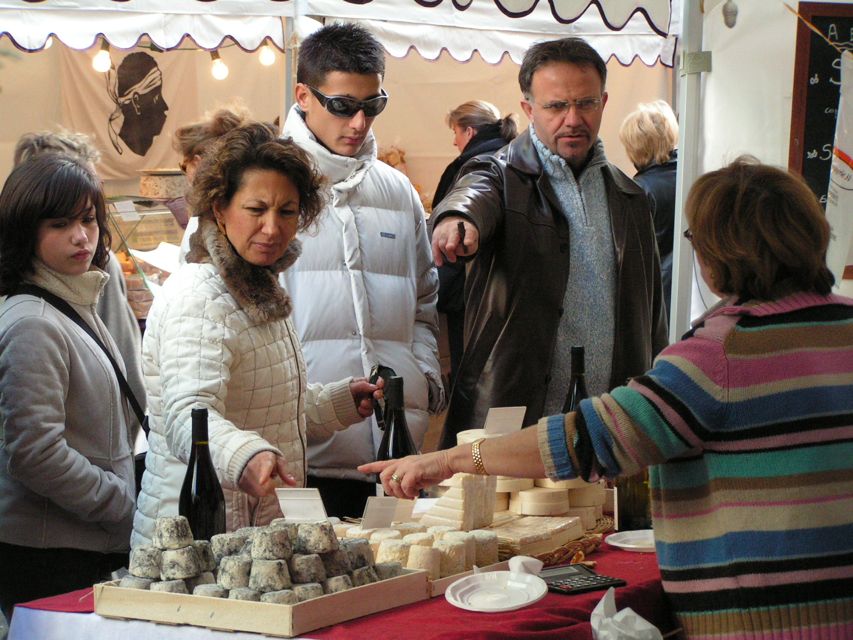 A popular option for lunch if the weather is nice is to find a market or a shop and buy some bread, cheese, a bottle of wine and whatever else jumps out at you and go to one of the parks or gardens and spend the afternoon like the people in Manet's Le Dejeuner sur l'herbe. Be sure to check the open air markets of Paris which are scattered all over the city. The best one is probably at the Bastille on Blvd Richard Lenoir. If you are in the Latin Quarter try the covered Saint Germain market between Rue Mabillon and Rue de Touron because it is close to the Luxembourg Gardens.
For breakfast stay at a hotel like the Hotel Europe Saint Severin-Paris Notre Dame which serves a buffet for ten euros. It may seem like a lot but you can drink as much coffee and eat as many croissants and as much yogurt, cheese, hard-boiled eggs, fruit as you can fit in your stomach, which will save you money when you consider in the outside a cup of coffee alone may cost you four euros. Of course half the fun of being in Paris is drinking coffee and people watching in the cafes so it is a toss-up. But if you require large amounts of carbs to get through the day then fill up in the hotel. When choosing a hotel factor this in the price because if breakfast is included that is 10 or 15 euros less you will be spending elsewhere.